Nutrichef is a sustainable food concept, born in the minds of a group of friends passionate about revolutionizing Asia's food industry. Nutrichef is the FIRST and ONLY of its kind in Bangkok, maintaining authenticity and tradition while experimenting with fresh ideas, cooking methods, and organic ingredients.
Our goal is to make it easier to access food that is delicious and nutritious, while supporting today's 'on-the-go' lifestyle. What started in 2015 as a mere idea has, today, evolved into a leading name in serving meals packed with heart and soul. We serve discerning individuals seeking alternative ways to access clean, environmentally-conscious, and of course, divine culinary experiences.
---
Nutrichef is run by renowned chef, Deepanker Khosla, or DK for short. DK has spent the majority of his career offering fine-dining experiences to some of the biggest names in the industry. Before venturing out on his own, DK operated Bangkok's #1 rated Indian restaurant, Charcoal. From the word go, DK has had his heart set on connecting the nation, and the world, to a more sustainable and responsible dining experience – without compromising a thing.
"We started this project because we wanted to improve health and wellness for all," says DK. "We believe that the best way we can nurture the health of the world is to reconnect people to nature AND real food, in a way that delivers the optimal amount of nutrition. Everyone should be able to feel energetically aligned and whole," continues DK. "We're creating a product that is inspired by innovation, bringing the right nutritional goodness to the people who deserve nothing but the best."
---
Since day one, we've been committed to giving back to society, which begins with a healthy, nutritious diet. Our chefs have poured their heart and soul into the vision that keeps Nutrichef alive:
Zero Kilometers
We use nothing but homegrown herbs and vegetables, planted and nurtured in manure. Our manure is created by compositing our kitchen's waste. Our produce is grown on-site, transformed into hearty food with soul.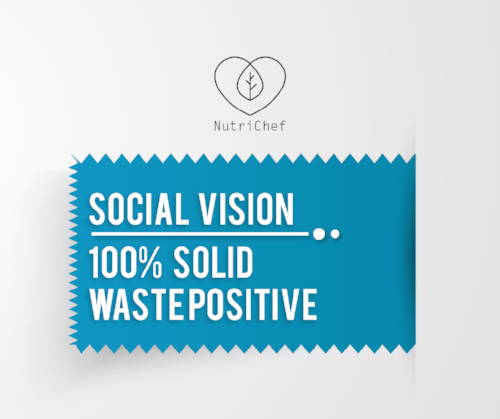 The Positive Company
100% Solid Waste Positive
All solid/food waste produced in our kitchen is dried and passed through an incineration process. This is how we create the manure needed to grow our fresh herbs and vegetables – from the ground up.
100% Water Waste Positive
We store our used kitchen water in grey water tanks, which is carefully filtered and meticulously disposed of. We take all reasonable measures to do this through the correct channels, ensuring ZERO harm to the environment.
Our Urban Farm in the Heart of Bangkok
Nutrichef is the FIRST and ONLY urban farm of its kind in Bangkok! We use traditional aquaponics (compost soil) and hydroponics gardening methods right in our backyard
We are striving to help communities become nutritionally impeccable: A goal that can only be achieved by putting health first – always. That's why we design each and every meal in our repertoire with our clients' unique bodily needs at heart.
What sets Nutrichef apart is that we've been in your shoes. We understand how tough it can be to eat healthy, lose weight, or simply pursue a healthier and more balanced lifestyle. We also know just how precious time is. Planning, shopping, preparing, and cooking THREE nutritious (and delicious) meals a day can seem impossible. If you do manage to make it possible, it's exhausting.
We're here to make it simple. Whether you want to eat vegetarian, vegan, paleo, Keto, or simply clean, we're here to help – so you can feel great from the inside out. Our pro chef, nutritionist, and certified health coach has you covered. He's ready to do all the hard work on your behalf.